The following art shows and exhibits offer an added opportunity to view William Hagerman's realistic landscape oil paintings.


No Scheduled Evenets at this time.
Galleries representing my art work are:

Folger Gallery, 3211 W. Wadley in Midland, Texas (432) 697-3778
Griffith Fine Art, 229 North Main Street in Salado, Texas (254) 947-3177
NanEtte Richardson Fine Art, 555 E. Basse Rd. in San Antonio, Texas (210) 930-1343
Sherwoods Gallery, 2618 Briar Ridge Drive, Houston, TX (713) 974-3700
Click here to see what paintings are available.

Featured
Famous Artist Quote:


"Art is not what you see, but what you make others see." Edgar Degas

And I happen to agree. William Hagerman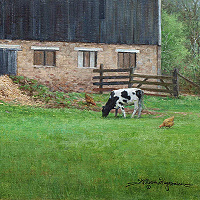 Peaceful Grazing
9x12 oil (sold)
The setting for this painting was from a barn I saw while in Canada a few years ago. Although it was in May of the year a cold front dropped the temperature and snow flurries were dancing about. I hurriedly jumped out of the car and took several photos. I added the cow and chickens grazing in the lush green grass to add interest.
One Person Shows
I also invite you to view the following archive of previous annual one person exhibits held at the Haley Library and History Center in Midland, TX. The following are pdf files.

Haley Library One Person Exhibit
Show Archives.

2008 Exhibit 1.93 MB
2007 Exhibit 1.41 MB
2006 Exhibit 1.23 MB
2005 Exhibit 0.98 MB
2004 Exhibit 401 KB
2003 Exhibit 683 KB