River Elegance 24x30 oil $5500.00 SOLD

This painting was painted from a plein air study along the Guadalupe River in Texas. A group of us rented some cabins and this scene was at the back of the property. It was a perfect autumn afternoon.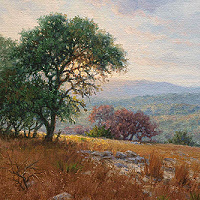 Autumn Morning 9x12 oil $1300.00 SOLD

Sun light breaking over the distant hill works it's power as it begins to diffuse the early morning moisture in the air on this cool autumn morning in the Texas Hill Country
Blue Horizon 11x14 oil $1990.00 SOLD

I was drawn to the red and white flowers which became the source of the desire to paint this painting. However, I have revised the painting and added the distant barn and windmill.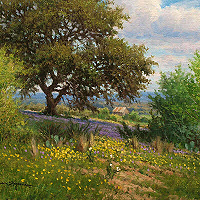 Compliments of Spring 9x12 oil SOLD

Although not an exact location, this painting is reminiscent of other areas I've seen in my travels. I added the complimentary colors of yellow flowers and purple verbena. The barn adds to the appeal.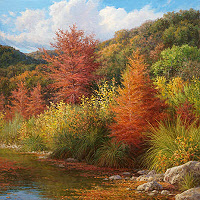 Cypress Colors 26.5 x 20.5 oil SOLD

I've driven by this location and photographed it several times, but this time the water level was lower and I was able to venture further back and was rewarded with this beautiful scene one fall afternoon.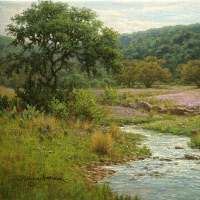 Dappled Light 12x16 oil $2500.00

Lighting is very important to a painting and can add drama. What I liked most about the light this day was the way it made the water in the stream glisten as though it was dappled with light.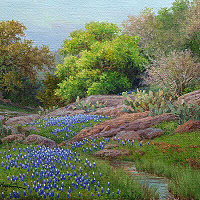 Evening Bluebonnets 11x14 oil $1900.00

I've always enjoyed painting rocks as well as bluebonnets, oak trees and streams of water. It's a great treat when you find a scene with all of them together even though I had to add a few more.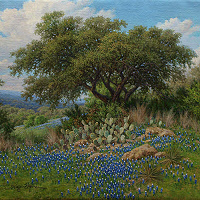 Lapis Hues of Spring 16x20 oil $2900.00

This is an imaginary scene composed in my head. I simply wanted to feature some of my favorite Texas elements such as the cactus, rocks, trees, blue skies and white clouds.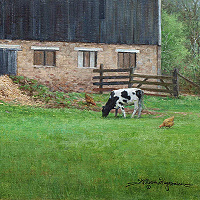 Peaceful Grazing 9x12 oil $1300.00 SOLD

I loved the weathered old stone and gray barn on a gray day which I saw in Canada. However, I added the cow and a couple of his friends to keep him company on this spring day.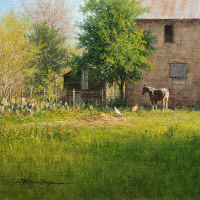 Two Companions 9x12 oil $1300.00 SOLD

This old barn is near Fredericksburg, TX in Gillespie County. I've painted it years ago from different views. The horse was there as was another, but he wasn't too good looking so I added chickens instead.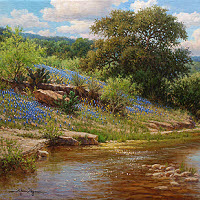 Spring Perfection 20x24 oil $3600.00 SOLD
What could be more perfect than blue skies, sunshine, cool water and the smell of spring flowers? Being there or owning this beautiful painting to savor a captured moment in time forever.