William Hagerman Artist Statement and Bio
When wishing to "seize the day," all too often, it seizes us instead and drags us along at unprecedented speeds. Our life's journey seems to be blurring by. However, patiently, yet with intense focus my artistic hand is applying the brakes one brush stroke at a time, until full stop is achieved. A new creation inspired by creation is born. Why do my oil paintings focus on the beauty of the landscape rendered in a realistic manner?


As humans we are made up of the elements of the earth, even the pigments I use in my artwork are often of earthy origin. When we experience the scenic outdoors, we feel drawn to it, nurtured by it, and we seek its solace whenever we can. Our senses become engaged. We feel alive, while savoring the slower pace in order to fully experience the beauty around us!

My artwork is your invitation to "seize a landscape painting," and stop and experience these same emotions over and over again thus transforming the invitation into a gift.

---
Art has been a constant feature in the life of artist William Hagerman who began
painting in oils 31 years ago. His work focuses on the beauty of the landscape.
The visual appeal of his award winning paintings are visually enhanced by his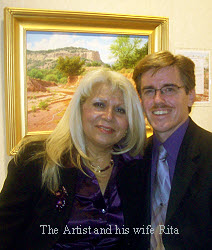 employment of time tested materials which adds to the permanence and longevity of the painting. Even to an untrained eye, these intrinsic qualities shine through.

In addition to his own personal studies, William has benefited from classes or workshops early on in his artistic development with several artists of distinction, such as: C.L. Curry, Dalhart Windberg, Robert Pummill and Gary Carter. William also credits artist Tom Ryan for his critiques and advice and Wilson Hurly for providing a bibliography of books to further his study of art. A common thread and a valuable lesson learned from these artists is the value of working from life. Whenever possible, William paints color studies on location and supplements these with photographs for detail and completes the painting indoors or uses the plein air studies as models for larger works.

A fairly recent honor was receiving Best of Show at Art of the Plains 2008 the Annual Exhibit of the American Plains Artists or APA held at the Museum of the Southwest in Midland, Texas. William currently supports the APA as an associate after several years as a signature member. The artist was honored to exhibit for several years with the American Art in Miniature Show held at the Gilcrease Museum in Tulsa, Oklahoma.

From 2003-2009, William annually exhibited with a one person exhibit at the Nita Stewart Haley Memorial Library and History Center in Midland. These shows have benefited the History Center which has a large collection of rare books, periodicals and memorabilia devoted to the history of the southwest.
Another honor was having an article written in Country Lifestyle Magazine in the April/May 2009 issue titled: Drawn to the Light. Sadly it appears the magazine has now ceased publication.

William also enjoys sharing his artistic knowledge with his many students who are enrolled in his art classes and workshops. Learn more about this on the art class and lessons page.

He resides in Midland with his wife Rita.